Put Your Business in the Front Seat with Rally Fans
Traditionally sport car racing has done very well at reaching out to fans and spectators at the events, but has lacked at engaging those fans not in attendance. StageTrack offers several solutions too assist in targeting those fans; benefiting the organization, teams, and sponsors through much wider audience exposure. Events with StageTrack bring the casual fan up close and offer race/team sponsors an opportunity to gain those impressions they would not normally receive.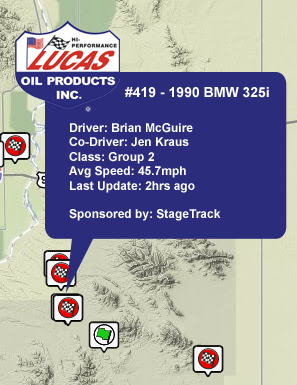 Custom Ad Example
How to reach this audience
StageTrack offers different packages to fit your company's needs, and assistance to target your attack. We have banner ads that can get you a set number of exposures, all the way up to a full site branding. All banners would be yours, along with the background being customized to your logo/colors/etc.
Who you'll be reaching
The basic market that we reach is males from 18-42. Rally is growing in popularity; it is seen as a 'grass roots' type event where the common guy can race next to professional drivers like Travis Pastrana, Dave Mirra, and Ken Block. This is a group of people that likes to spend expendable income on having fun, and building that fun. These fans spend time in the garage working on their own cars, home improvement, and other projects. Rally fans and participants usually enjoy participating in other action sports; skiing, snowboarding, cycling, mountain biking, motor cross, along with other xtreme sports and other motorsports…just to name a few.
Demographics range from Coast to Coast for our audience; with many different rally organizations we reach fans of any stateside rally.
Why you want to reach this audience
As with many grass roots type ventures the fan base is extremely loyal to the companies that support these events, and are involved in bringing these events to the internet! The Mintel Research Report shows that 80% of rally fans will visit a sponsor's booth and/or website. And an amazing 69% of fans show a greater propensity to purchase items from those sponsors.
What you'll be supporting
Thanks for checking out StageTrack! Your company can be shown supporting StageTrack and more importantly the racing all that we bring to the fans; live race tracking, team tweets, fan tweets, event updates, pictures, relevant news feeds, and more being added all the time. StageTrack aims to be a one stop show for all things related to rally racing; with addition of team pages, race pages, and much more to add a very "social media" feel to our site.
Ready to get involved? Contact us